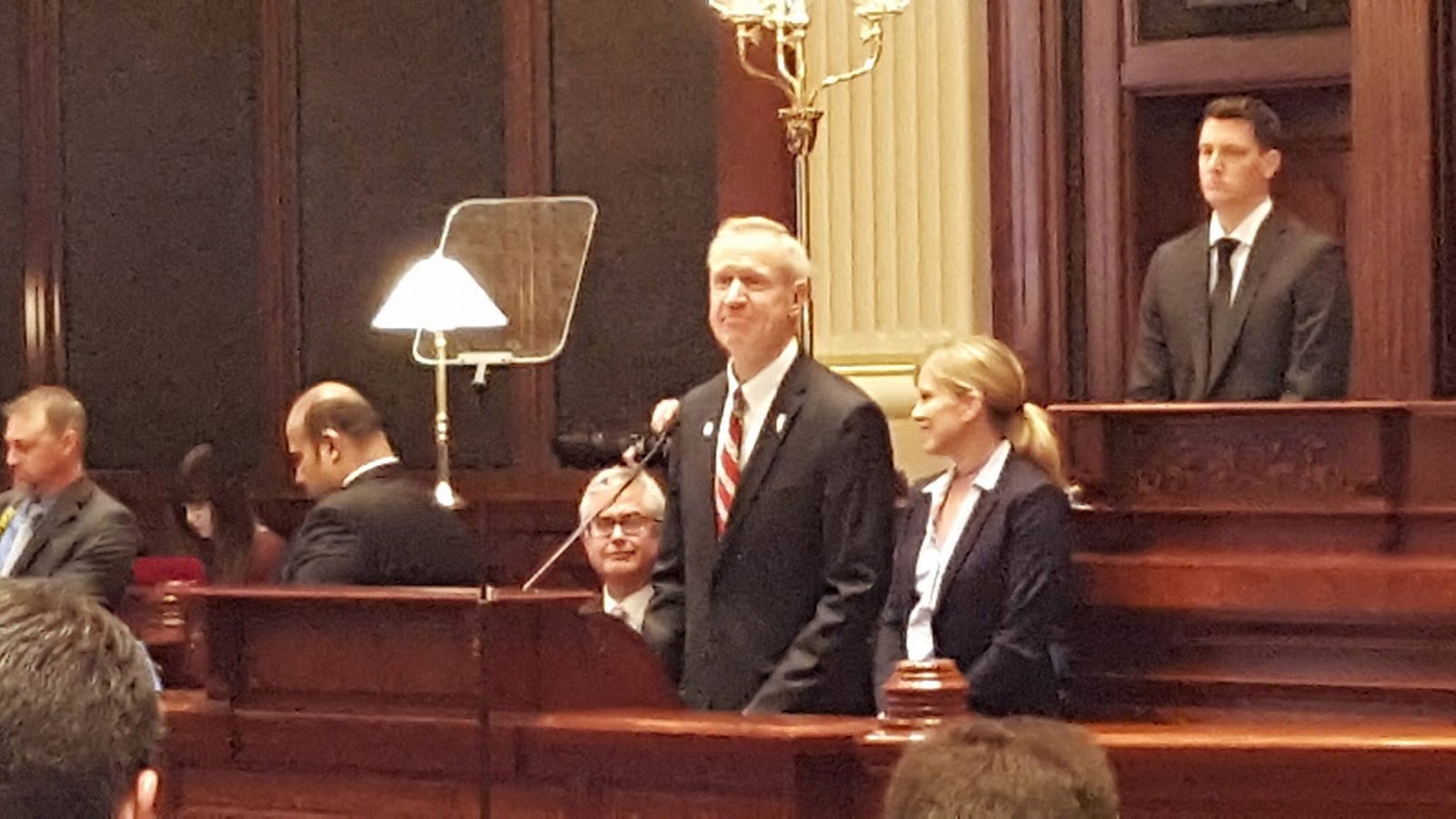 ILLUSION: Illinois is the home of 1.2M job-creating small businesses.
REALITY: This hasn't changed since Rauner took office. There were 1,169,961 (1.2M) total small firms in 2012.
ILLUSION: In 2017, there were 36 Fortune 500 companies in IL.
REALITY: There were 32 Fortune 500 companies that landed on the 2013 list. Four additional companies were acquired over the past four years; this is hardly something to brag about – 1 per year, and at what cost (https://www.afscme.org/now/corporations-get-tax-breaks-while-illinois-taxpayers-get-shaft)?
A whopping $1.469B in EDGE tax credits has been issued since 2001.
VIEW: EDGE Tax Credit Program Annual Report 2016 https://www.illinois.gov/dceo/AboutDCEO/ReportsRequiredByStatute/2016%20EDGE%20Report_FINAL.PDF
When Gov. Bruce Rauner took office, he decided that $100M in business tax breaks (https://chicago.suntimes.com/news/rauners-100-million-in-corporate-tax-breaks-drawing-fire/) promised to corporations such as eBay and Capital One must be honored. Meanwhile, taxpayers got the shaft.
The governor agreed to suspend more than $200M in grants for social services and parks to help make up the difference in his corporate giveaways. The claim was they have "no impact" on current-year spending.
No impact? Cuts included $26M in health and social services grant awards, including $7M for funerals and burials for public aid recipients, funds for immigrant services, autism services, and other programs. An additional $180M cut was made in parks grants – and the State still was running a multi-billion-dollar deficit the following year.
As of late, Rauner chased after a $5B deal with Amazon and a joint Mazda-Toyota plant. Like Amazon, Toyota and Mazda expected government subsidies, a well-crafted incentive package tied to enforceable job-creation targets and other measurable economic benefits (http://www.chicagobusiness.com/article/20170927/BLOGS10/170929897/the-state-needs-to-go-all-in-for-the-toyota-mazda-car-factory-too). Fortunately, Illinois narrowly escaped another "ill-fated Mitsubishi catastrophe" (http://www.pantagraph.com/news/local/everything-you-need-to-know-about-the-mitsubishi-closure/article_0f368855-7d5e-51ed-ac43-529c9bcf1ae6.html) since the Japanese automakers preferred to undercut union wages and decided to pursue freebees in a Southern state where right-to-work law has been implemented - Alabama.
In the view of many economists, tax incentives are little more than corporate giveaways that divert money from education, infrastructure and other priorities that ultimately do more for a region's economy (https://www.nytimes.com/2018/01/26/business/economy/amazon-finalists-incentives.html).
The academic research (https://medium.com/concentrated-benefits/florida-man-seeks-a-quarter-of-a-billion-dollars-6bb6fe36a96e) is exceedingly clear: There is no statistically significant relationship between per capita subsidies and compound economic growth from 2009 to 2014 (the relationship is actually slightly negative, suggesting subsidies might hurt growth). Targeted incentives do not benefit the communities that offer them. The biggest winners in this competition between governments are state-jumping companies and the politicians who lavish them with taxpayer money (https://www.mercatus.org/commentary/amazon-hq2-cities-should-stop-wasting-money-corporate-handouts).
In the meantime, Illinois has yet to clean up the following mess: https://www.statedatalab.org/state_data_and_comparisons/detail/illinois
FAST FACTS (March 2017):
• IL has $25B available assets to pay $235.9B worth of bills
• Outcome: A $210.4B shortfall and a $50,400 per taxpayer burden
• In addition to sinking the State in pension debt, the State continues to hide most of its retiree health care debt. The State's total hidden debt amounts to another $51.9B
BILLS ACCUMULATED BY STATE OF IL
Bonds $40,266,911,000
Other liabilities $27,952,085,000
Minus: Debt related to capital assets - $15,188,623,000
Unfunded pension benefits $138,390,362,000
Unfunded retiree health care $44,462,975,000
Total Bills: $235,883,710,000
SIDENOTE: US debt has surpassed $20T (http://www.bbc.com/news/business-41248503), dwarfing almost anything experienced by a major industrialized nation, with an increasing role of foreign investors, $6.25T (http://money.cnn.com/2018/02/16/news/economy/china-us-debt-holdings/index.html and https://www.bloomberg.com/news/articles/2018-01-11/the-worry-about-giant-foreign-buyers-of-u-s-debt-quicktake-q-a) – a shift from earlier decades when most US debt was owed domestically.
The debt limit, or "ceiling," sets the maximum amount of outstanding federal debt the U.S. government can incur by law, requiring congressional approval for any increase (or decrease) from this statutory level. As of May 2013, this number stood at $16.699T. The federal government reached its capacity to issue debt (https://www.cfr.org/backgrounder/us-debt-ceiling-costs-and-consequences) on May 20, 2013. October 17 was the date specified by which "final extraordinary measures" would be exhausted.
Actual debt is estimated closer to $150T due to unfunded liabilities such as public pensions and private-public partnerships (http://jubileedebt.org.uk/reports-briefings/briefing/the-global-debt-iceberg). The Great Depression was initiated when the federal government raised interest rates, which is exactly what the US Federal Reserve is doing (http://www.bbc.com/news/business-42344170 and https://www.cnbc.com/2016/12/19/interest-payments-could-become-one-of-the-federal-govts-biggest-line-items.html). Even without new spending, the cost of servicing the national debt is expected to nearly triple over the next 10 years, according to estimates by the Congressional Budget Office. That's more than twice as fast as the growth of spending on Social Security or Medicare.
ILLUSION: In 2017, there were 72,000 farms and 27M acres of agricultural land (https://www2.illinois.gov/sites/agr/About/Pages/Facts-About-Illinois-Agriculture.aspx)
REALITY: There were 75,087 farms in 2012 and the average farm acreage was 418 acres (http://www.ilfb.org/media/2025663/ag-in-illinois-facts-talking-points.pdf), which is approximately 31M acres of agricultural land. To put this in perspective, consider that in 1910, the number of farms in IL was 253,000 farms with an average farm acreage of 147 acres, which is approximately 37M acres of agricultural land. Nothing has changed for the better under Rauner.
The data for Illinois is particularly compelling: a region with some of the richest and most fertile soil in the world continues to undergo a major structural transformation, and the unintended consequences of this shift are rippling across the state.
At first glance it appeared that the size of farms in Illinois was shrinking: in 2013 the average size of an Illinois farm was 361 acres, somewhat smaller than the 2003 average of 388 acres.
The real story lies far beneath those statistics. Sales revenue is a major indicator: the physical dimensions of Illinois farms that generated more than $1M in revenue increased five-fold. The average size of these farms was a whopping 2010 acres!
Incredibly, in 2013, 37% of Illinois farmland -- totaling more than 10M acres -- was comprised of farms with revenues of $1M or more, compared to 2M acres in 2003. While the number of million-dollar mega-farms in IL grew over the decade, the number of mid-sized farms decreased.
When the category is broadened to include all farms with more than $500,000 in revenue, 53% of all Illinois farmland -- more than 14M acres – is bound up in mega-farms, double the 2003 acreage in $500,000-plus revenue generators. As of 2013, the average size of a farm in the half-million-dollar plus category was close to 1,700 acres.
Mineral Rights – Illinois is experiencing an energy boom (http://www.ispfmra.org/wp-content/uploads/2013/07/2013-Land-Values-Report-for-Web.pdf). Farmland owners across the state are becoming sensitive to the prospect of coal, oil and natural gas under their properties, which drives the value of the property and income from it.
SIDENOTE: Foreign investors held an interest in 25.7M acres of U.S. agricultural land (forest land and farmland) as of December 31, 2011. This is an increase of 1,490,781 acres from the December 31, 2010 report, and represents 2.0% of all privately held agricultural land in the United States.
Canadian investors own the most reported foreign held agricultural and non-agricultural land, with 28%, or 7,250,834 acres. Foreign persons from the Netherlands own 19%, Germany owns 7%, the United Kingdom owns 6% and Portugal owns 5%. Together, 9,511,437 acres or 36% of foreign-held acres are owned by individuals or entities from these countries.
An agricultural census conducted in 2012 revealed that nearly 40% of all agricultural land in the U.S. is rented or leased from someone else. This translates to roughly 354M acres out of the 911M acres involved in agricultural production nationwide.
ILLUSION: 12.8M residents, almost one-half of whom – 6.05M– are in the nonfarm payroll workforce.
REALITY: For the third consecutive year, Illinois has lost more residents than any other state (http://www.chicagotribune.com/news/local/breaking/ct-illinois-population-decline-met-20161220-story.html), losing 37,508 people in 2016, which puts its population at the lowest levels since 2009.
This isn't a new trend: Illinois lost population in both 2014 and 2015. More alarming, 114,144 people voluntarily left IL in 2016, while only 30,934 chose to move in. IL remains the 5th most populous state in the country with close to 13M people.
ILLUSION: The General Assembly increased funding for K-12 public schools by $1.2B.
REALITY: Rauner can hardly take credit for this (http://nprillinois.org/post/gov-vetoes-school-funding-trailer-bill#stream/0). He held up funding demanding the inclusion of private schools and voucher programs that drain the resources of public schools. Additionally, he vied for lower standards to include private schools that haven't yet received "recognition" from the Illinois State Board of Education.
ILLUSION: The administration last year proposed, and the General Assembly enacted, the Invest in Kids program to create tax incentives for donations to scholarship granting organizations that help high-achievement students obtain financial help to attend competitive private schools.
REALITY: What this really amounts to is an income tax loophole for corporations and the wealthy (https://chicagotonight.wttw.com/2017/08/30/what-will-tax-credit-scholarships-mean-illinois). The tax credit based on the state's set rate. In Illinois, it will be 75%. So, the taxpayer who owes $1,000 and makes a donation in that amount to a nonprofit Student Tuition Organization (STO) would still owe $250 in taxes to the state but would receive a tax credit for the remaining $750.
CONCLUSION: Rauner failed Illinois.