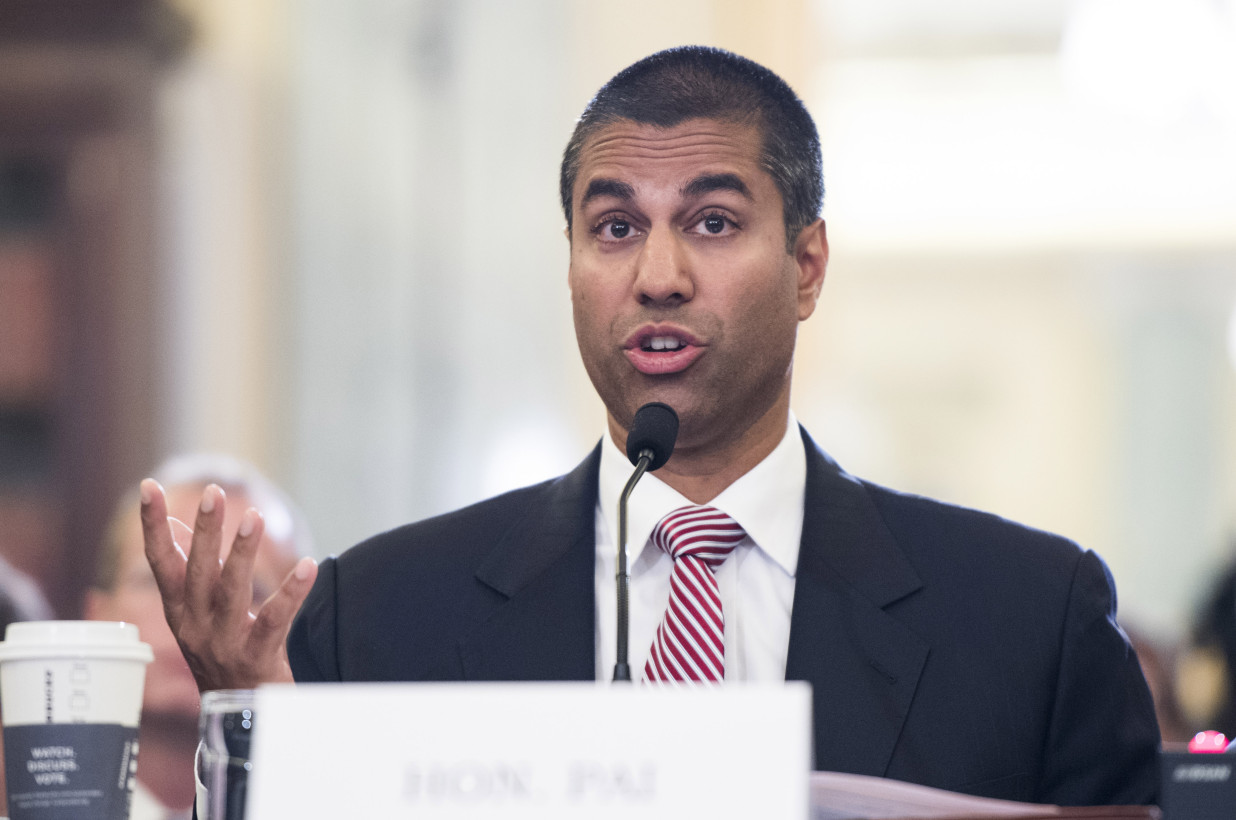 https://www.nytimes.com/2018/02/15/technology/fcc-sinclair-ajit-pai.html
The office of F.C.C. inspector general, which is a nonpartisan role that reports to the agency and regularly updates Congress on some investigations, is investigating Chairman Ajit Pai over claims he may have improperly pushed to loosen media ownership rules that would favor Sinclair Broadcast Group right before the company announced a $3.9B buyout of Tribune Media. A union of Sinclair and Tribune would create the nation's biggest television broadcaster, reaching seven out of 10 American homes. The F.C.C. and Justice Department are widely expected to approve the merger in the coming weeks.
A New York Times investigation published in August found that Pai and his staff members had met and corresponded with Sinclair executives several times. One meeting, with Sinclair's executive chairman, took place days before Pai, who was appointed by President Trump, took over as F.C.C. chairman. Sinclair's top lobbyist, a former F.C.C. official, also communicated frequently with former agency colleagues and pushed for the relaxation of media ownership rules. And language the lobbyist used about loosening rules has tracked closely to analysis and language used by Pai in speeches favoring such changes.
According to a December 2016 story in Politico, the Trump camp "struck a deal with Sinclair Broadcast Group during the campaign to try and secure better media coverage." Trump's son-in-law Jared Kushner reportedly told a group of executives that the campaign promised to give Sinclair more access to Trump. In exchange, Sinclair would broadcast its Trump interviews across the country without commentary, Politico reported. There are also reports that Trump discussed possible changes to media ownership rules with Sinclair CEO David Smith (https://www.cnet.com/news/fcc-watchdog-investigates-chairman-ajit-pai-over-sinclair-tribune-merger/).
In November, several Democrats in Congress called on the inspector general's office to explore all communications — including personal emails, social media accounts, text messages and phone calls — between Sinclair, Pai, and his staff. The lawmakers also asked for communications between Pai's office and the White House. They pointed to a report (https://nypost.com/2017/03/14/sinclair-tribune-merger-would-surpass-fcc-ownership-rules/) in March 2017 from The New York Post, in which Trump is said to have met with Sinclair's executive chairman, David Smith, and discussed F.C.C. rules.
Pai, Trump's new FCC chief, opposes net neutrality rules. Advocacy group Free Press President Craig Aaron said Pai "has been on the wrong side of just about every major issue that has come before the FCC during his tenure. He's never met a mega-merger he didn't like or a public safeguard he didn't try to undermine" (https://nypost.com/2017/01/24/trumps-new-fcc-chief-opposes-net-neutrality-rules/).